Wilton Reinsurance Bermuda Limited donated $40,000 to several Bermuda charities.
Each of the charities was nominated to receive support by the employees of Wilton Re Bermuda, many of whom cited a personal connection to or having had a direct personal impact by these philanthropic organizations."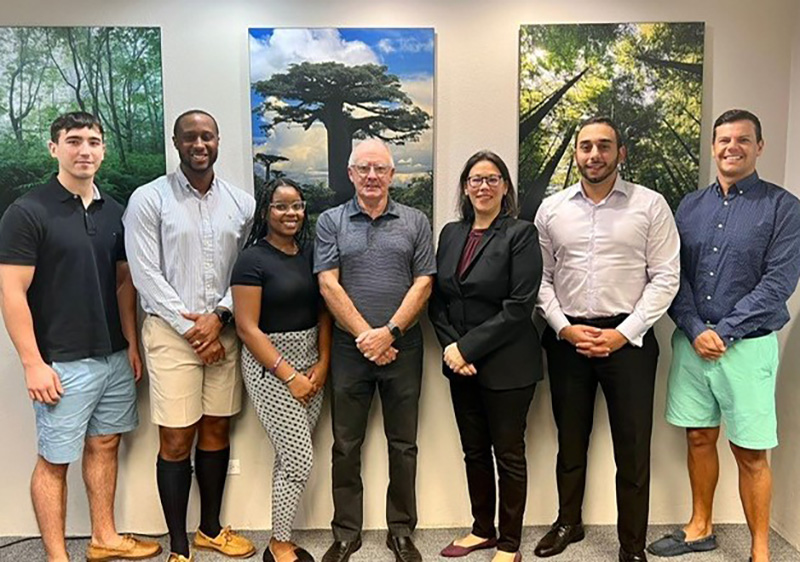 Sylvia Oliveira, CEO of Wilton Re Bermuda said, "Wilton Re Bermuda continues its steadfast commitment to our community and the ethos for giving of our time and financial support. Each of these charities have made a direct personal impression on members of our team, who have directed our corporate charitable donations to support their worthy missions this year."
A spokesperson said, "Wilton Re Bermuda made donations to the following seven Bermuda charities:
Women's Resource Centre of Bermuda [WRC], which supports women in need, was selected by Wilton Re employee due to her personal experience. "I endured domestic violence within my household for several years. My mother became a survivor of the abuse and could not have survived alone. Sadly, this is not the only instance of domestic violence in my immediate family, and too often, many experience recurring domestic violence throughout their lives. It takes a community to protect those who are forced into these horrific situations. The work and support the Women's Resource Center provides is very impactful, needed, and I know is well appreciated by those they are able help.
Elaine Butterfield, Interim Chair for the WRC said, "These are very challenging times. The demand for our services has increased exponentially and donations such as Wilton Re's help us to fulfil our mission of empowering women and their families who need it most."
Lady Cubitt Compassionate Association [LCCA] has an important mission to improve the quality of life, health, and well-being of those in our community who are in medical, financial, or emotional need. LCCA's support has literally been lifesaving for people without any other options for medical care, including providing past support for one of our staff members. More recently, Wilton Re's office cleaner, Marilyn, needed urgent care overseas, and her insurance coverage was insufficient. The support of LCCA allowed her to undergo the critical surgery she required.
An LCCA spokesperson said, "Our Overseas Medical Program offers interest-free loans for critical, live-saving medical treatments not available in Bermuda that many in our community cannot afford. We are very appreciative – without help from donors like Wilton Re, we would not be able to continue offering this vital assistance."
Knowledge Quest provides much-needed financial support to Bermudians pursuing their academic dreams. Our staff was pleased to support this organization, often "the scholarship of last resort", which has helped over 200 Bermudian students attend college overseas. Wilton Re has hired a past Knowledge Quest recipient as part of its internship program.
Cynthia Cox of Knowledge Quest said, "Thank you for believing in Knowledge Quest! Means-tested scholarships have a multiplier effect across the community: providing academic training for our professions, reducing poverty, giving hope, raising self-esteem, supporting families and more. We are most grateful to Wilton Re for the contribution!"
The Menuhin Foundation has a mission "to foster and develop an interest in classical and other music and the playing thereof". This charity was nominated recognizing that the arts are often ill-supported, particularly when the economy is challenged. The staff member noted, "The arts unite and engage diverse backgrounds and is important for improving creativity skills, confidence and communication."
The spokesperson said, "Laura Davis, Menuhin's Chair, expressed her thanks to Wilton Re, citing the challenges of navigating the organization out of the pandemic so that the programmes continuously provided over the last 45 years may continue to benefit Bermuda's students."
Bermuda Education Network [BEN] seeks to build a professional learning community that increases the services and opportunities for public-school students. BEN was selected a Wilton Re employee who admires the organization's proven ability to provide STEM opportunities to Bermuda's school children, improve school culture, and raise student achievement levels.
Kristen Scott-Ndiaye, Development Director of BEN said, "Thank you to Wilton Re for their generosity and encouragement toward our programs. With this donation, we're able to offer free transportation within our Horizons Programme, which gives public-school students open access to experiential learning field trips that support the curriculum and deepens knowledge under the themed units of social studies, Bermuda history, ecosystem and agriculture, science, technology, engineering, and mathematics and more. We are so grateful to Wilton Re for sharing our vision to support teachers and get more of these opportunities to public-school students."
ConnecTech connects diverse groups of Bermuda children to teach them programming languages, robotics, and app development. Our Wilton Re team member was keen to support this charity, believing that coding is a foundational skill that can benefit every child. Coding is the language of the future and helps critical thinking and innovation."
Coral Wells, ConnecTech founder, expressed a great deal of gratitude to the sponsors for recognizing the importance of tech education and STEM learning for our youth. "Our students would not be able to participate in an amazing opportunity to represent Bermuda in the Global Robotics Olympics if it wasn't for sponsors like Wilton Re."
West End Primary PTA is a partnership between parents and teachers working together for the success of children. This charity was nominated for support because "I have a personal connection with the work of this PTA and know first-hand their unrelenting dedication and passion for the children. It is important to ensure that children have the opportunity for excellent education, so they can thrive in the future."
The spokesperson said, "West End PTA President Aziza Furbert expressed thanks for Wilton's generous donation and highlighted that the donation will allow the PTA to proceed with much-needed initiatives for the school."
Brendan Kemp, CFO of Wilton Re said, "Wilton Re Bermuda, our staff and I are so thankful for the tireless effort and commitment that each of these charities make to Bermuda. Our community is a better place due to these charities, and Wilton Re as a team are committed to help improve the lives of all Bermudians."
The spokesperson said, "Incorporated in 2005, Wilton Re Bermuda [wiltonre.bm] in an A-rated life and annuity reinsurer committed to creating solutions that enhance value for our clients and their policyholders."